Arrival
Arrival via Athens
Flight to Athens and onward journey with bus/rental car/taxi (duration approx. 3h)
You can either take the new urban motorway in the direction Eleusis – Corinth via the motorway to Patras and then cross the fee-based bridge at Rio to reach Antirrio-Nafpaktos and Paralia Sergoulas. Or you take the motorway from Athens to Lamia to Thebes and Kastro and continue from there on the highway via Levadia - Delphi - Ithea - Galaxidi until you reach Paralia Sergoulas. This route is very scenic, the road however is very winding.
Arrival via Araxos
Aside from regular scheduled flights to Athens, weekly charter flights to Patras/Araxos (a small military airport south of Patras) are offered from cities like Stuttgart, Frankfurt, Munich, Düsseldorf and many more. They run from the end of April until the middle of October. The drive from Araxos to Sergoulas takes about one hour.
Arrival via Italy
Auto ferries usually operate daily from Venice, Ancona, Bari or Brindisi to Patras or Igoumenitsa. The crossing takes, depending on ferry and point of departure and arrival, 8 to 30 hours (the standard connection Ancona-Patras takes 24 hours at the moment.) Coming from Venice, you can disembark in Igoumenitsa and take the new scenic highway via Ioanina to Patras, thereby saving yourself about 4 hours on the ferry. This is especially recommended if you travel with dogs. The animals don't feel very comfortable aboard a ship.
The ferry service between Rio-Antirrio (between Patras and the mainland) is still operating, the faster way, however, is to take the new bridge between Rio and Antirrio. The bridge is fee-based and more expensive (2017: approx. 13 €) than the ferry service.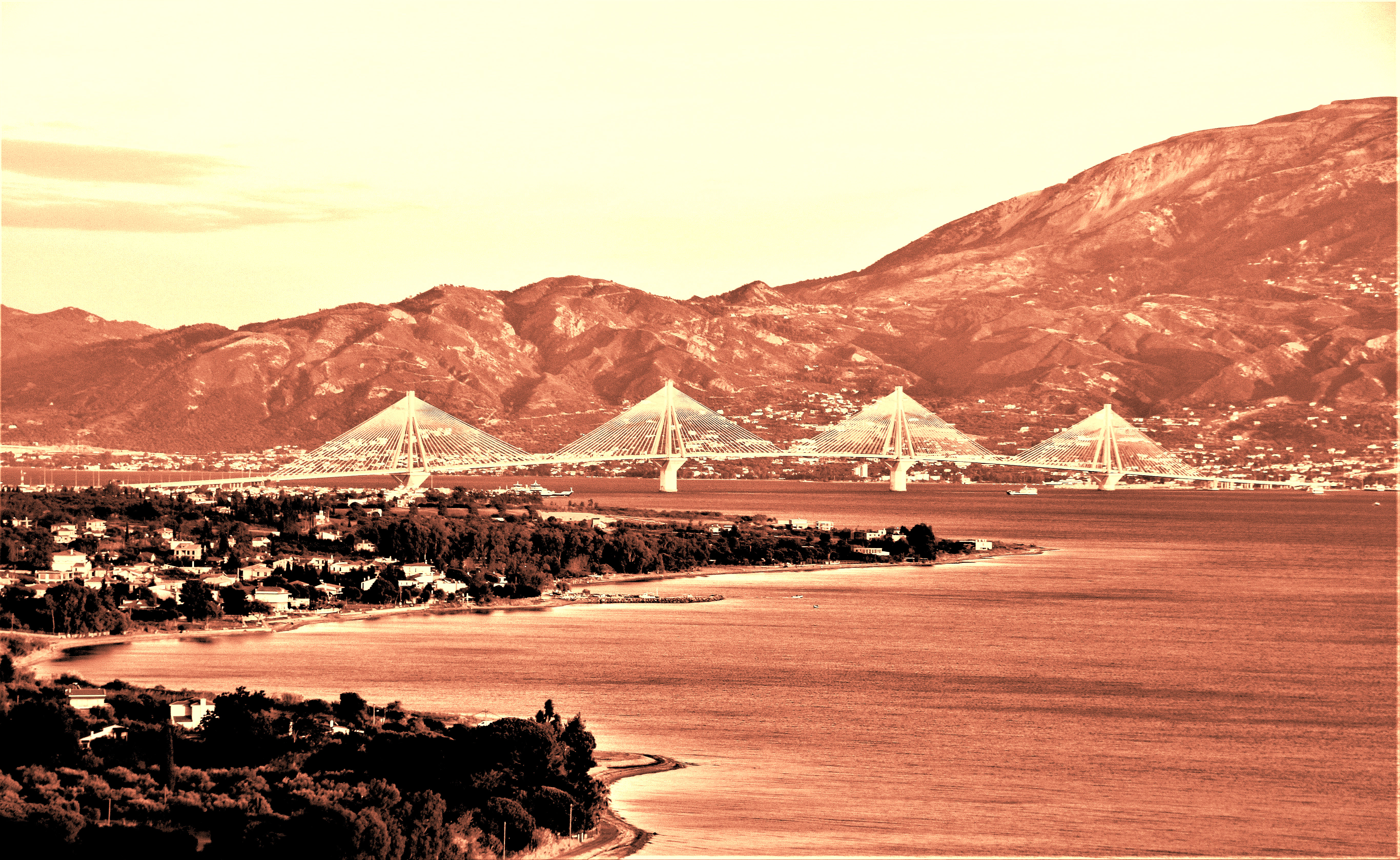 The world-famous Rio–Antirrio Bridge - officially the Charilaos Trikoupis Bridge - to Sergoula.